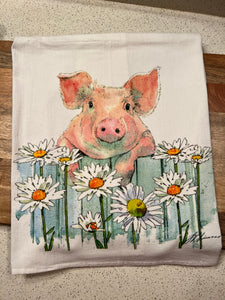 Pig Fence Daisies Flour Sack Kitchen Towel
Regular price $17.00 Sale
Version 2 of our best selling Pig Fence Towel! After looking at this handsome lil guy, we thought he looked a bit lonely, so we wanted to add some cute little flowers to him…after trying too many flowers, we did some daisies and it's what he's been missing!!! The daisies pair perfectly with his sweet lil face and the soft blue of the fence!
What I love most about this towel is that it brings a smile to the face of people walking by when we do markets etc and it's generally the reason people stop and take a look at our line of towels. 
The artwork featured on this towel began as an original watercolor by Suzanne Simmons and as usual, she brought out the elegance of this sweet little pig and the curiosity of seeing what's just beyond the blue fence.
Screen printed by hand in Houston, TX using water base inks. This towel is size to approximately 30" x 30" with the artwork being sized to approximately 10"w x 13.5" h. This is a 4 color screen print.
Perfect gift for the animal lover in your life...just pair with a bottle of wine, whiskey or simply by itself.